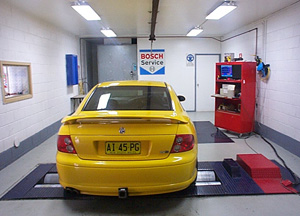 Dyno Tuning
What is a 'dynamometer' or Dyno?
A dyno is like a treadmill for cars. Road and track conditions can be simulated when your car or bike is driven on the rollers at low speed, high speed, normal level road, up hill, down hill etc
Tuning your car properly requires the car to be under load because this is how it is normally driven. This enables us to accurately and quickly diagnose ignition and fuel delivery systems, emissions, drive train and all aspects of vehicle performance. It also allows us to test the vehicle under load while being in a controlled environment. Our dyno facility is a fully contained sound proof cell (as pictured above).
Mark Heysmand has close to 20 years experience in getting the full potential from your vehicle. For more information view our F.A.Q. page.

Superchargers
We have been fitting and tuning superchargers for over 10 years. We began with Australian made STA blowers and moved onto Vortech, Powerdyne and Paxton. These days the Vortech and ProCharger systems would have to be our most popular kits.
Every supercharger job we do also involves fitting a custom intercooler.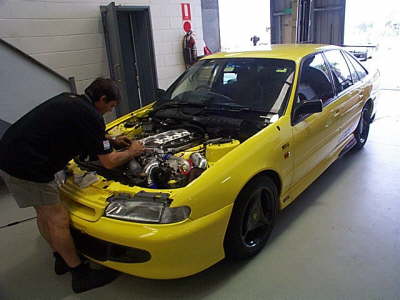 Secondly, an Engineers Certificate is necessary when making such drastic engine modifications to street cars. A certificate is supplied after an authorised signatory has done a complete check of the vehicle, making sure that any modifications made are street legal and meet all Vehicle Standards requirements as set in NSW legislation.
This certificate is also required by most (if not all) insurance companies and definately helps if you are ever questioned by Police about the modifications under your bonnet!

Speedometer Testing
Have you been caught speeding? Are you adamant that they got it wrong?
We have the only calibrated dyno in NSW* which means we can accurately test your vehicle's speedo and find out if you were in fact wrongly fined for speeding. We provide a certificate which will show you if your speedometer is reading incorrectly which can help you prove you were unknowingly speeding.

Reprogramming ECU's
We pride ourselves on being the most experienced and thorough ECU reprogrammers in Sydney. We have a range of software available including Kalmaker, HP Tuners as well as standard Holden, LS1 and LSII software. We are also capable of tuning many aftermarket ECU's such as MicroTech, EMS and Haltech to name a few. For more info view our F.A.Q. page.
Mechanical Repairs
Whether you only drive to pick the kids up from school, or you manage a fleet of company cars, you can be assured of reliable workmanship and careful attention being given to your vehicle at all times.
As certified members of the Bosch Service Dealer Network, all repairs we undertake are covered under the Bosch Australia-wide warranty!
All general mechanical repairs including, but not limited to…
New car servicing (iwthout loss of warranty)
Free pick up and delivery within 5km
Fleet Maintenance
Injector Cleaning an/or Testing
EFI Fault Diagnosis
Drop in for a quote or contact us if you have any questions!