SCT X3 Ford Power Flash
Unlocking the true power potential of your AU, BA, BF & FG Falcon & Territory is now literally the press of a button away utilising the SCT X3 Power Flash Device. Each SCT unit comes with a Performance Program to suit your Standard or Performance Enhanced vehicle.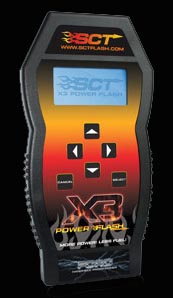 Following a very simple loading procedure, select your preferred Performance Program and within a matter of minutes your Factory program is stored safely within the SCT unit, replaced by your chosen Performance program.
SCT's Power Flash Device instantly adds more power, more torque and can even increase your vehicle's fuel economy.
For the optimum in performance, we highly recommend having your vehicle custom tuned, to get the best out of your vehicle. Give us a call on 9791 3122 to discuss your options.