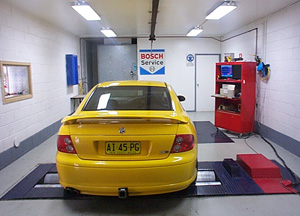 Over 25 years experience in the Automotive industry!! We have been manufacturing throttle bodies since the early 90's to replace Weber carburettors and Holley four barrel units. Take a look around and if you have any questions please contact us!
We have also been fitting and tuning superchargers for over 10 years. We began with Australian made STA blowers and moved into Vortech, Powerdyne and Paxton. These days the Vortech and ProCharger systems would have to be our most popular kits.
Every supercharger job we do also involves fitting a custom intercooler.
Secondly, an Engineers Certificate is necessary when making such drastic engine modifications to street cars. A certificate is supplied after an authorised signatory has done a complete check of the vehicle, making sure that any modifications made are street legal and meet all Vehicle Standards requirements as set in NSW legislation. This certificate is also required by most (if not all) insurance companies and definitely helps if you are ever questioned by the Police about the modifications under your bonnet.